What was The Violence Against Women Act of 1994?
The Violence Against Women Act of 1994
The first comprehensive federal legislation responding to violence against women was introduced in 1990. While the U.S. Senate held several hearings and reported bills out of committee, not until the 103rd Congress was there finally traction on the issue in both the Senate and the U.S. House of Representatives. With the help of outspoken advocates across the country, including the Family Violence Prevention Fund (FVPF) and other members of the National Task Force to End Sexual and Domestic Violence Against Women, the Violence Against Women Act (VAWA) was finally signed into law in August of 1994 as a part of the Violent Crime Control and Law Enforcement Act of 1994 (PL-103-322).
The provisions included in the final bill were a compromise of two pieces of legislation that had been introduced previously, H.R. 1133, introduced by Rep. Pat Schroeder (D-CO), and S. 1607, introduced by Sen. Joseph Biden (D-DE).
VAWA created:

- new penalties for gender-related violence and
- new grant programs encouraging states to address domestic violence and sexual assault including:

* law enforcement and prosecution grants (STOP grants)
* grants to encourage arrest
* rural domestic violence and child abuse enforcement grants
* the National Domestic Violence Hotline
* grants to battered women's shelters


While no one felt this completely addressed the needs of victims of domestic violence, almost all involved believed this was a vital first step in our nation's efforts to treat domestic violence as a serious problem.
http://endabuse.org/vawa/display.php?DocID=34005
The Bill: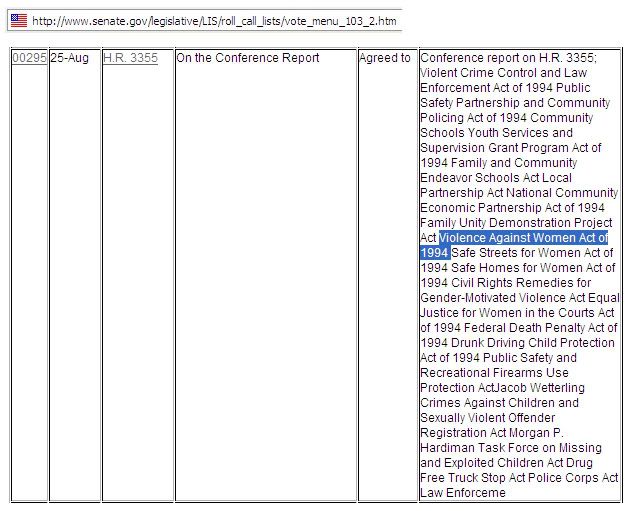 The Vote Summary of the Bill: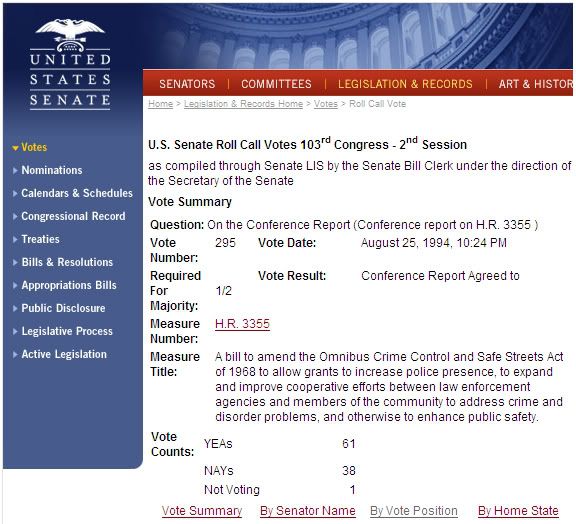 Vote Positions: